Link building in 2016
Building backlinks are one of the key elements to any SEO campaign. It's very effective when done right.
Thing is though many SEO gurus will try and tell you it's dead.
For years now Google has been telling SEO consultants to stop building links. And whilst there could be some merit to this post – penguin era, I really do think people are mis-understanding this algorithm update.
The guiding principle of this update was to penalise website that are using manipulative strategies and techniques to rank higher for specific search terms.
I've read statements such as "If you build links, they will eventually hurt your site, not help it"
Me personally, I think many SEO guys just need to strike up the courage and admit they are just not bothered to do it properly and in a manner that fits in with Google's guidelines.
Link building now requires the commitment of creating exceptional content that followers will share across social media and other websites will link to as a resource.
To back up the fact backlinks are still an important factor in Google's ranking algorithm, let's ask ourselves why Google rolled out the Penguin update that protects the manipulation of rankings in the first place.
Answer, because they use backlinks to determine a websites worth in its rankings.
If they didn't consider backlinks at all, then why would they roll out an algorithm that deals with this very thing!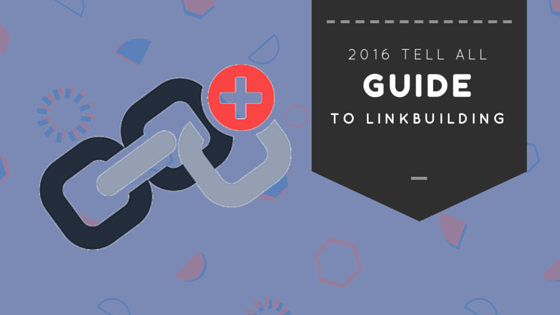 So now we've established back links matter and they require commitment to hard work, they really do only work when done right.
Before we proceed into how to build high quality back links in 2016, let's look at what constitutes low quality back links and how they can be a detriment to your site:
1. Manual Spam Penalty
A Manual Spam Penalty is issued by Google's web spam team and generally handed out following a review of a sites link profile. The review could be triggered by one of the following:
Links detected from bad neighbourhoods,
A spam notification from a competitor,
Un-natural movements in a competitive niche that Google may target,
Or just the fact Google decided to pick on your website (unlikely though)
Notification of Manual Spam Penalties are delivered in the Google Search Console (Webmaster Tools).
2. Algorithmic Spam Penalty
An algorithmic spam penalty is applied when Google automatically detects un-natural link profiles. No manual review is required for this to occur.
Generally you will not receive any form of notification with an algorithmic penalty…you will however experience a sudden drop in rankings for affected search terms.
SO with that said, building low quality links can get your website penalised.
Now to keep your website safe whilst building links (remember high quality back links are still effective) takes commitment to hard work and time.
To make sure your link building efforts are as effective and time efficient as possible, first we need to have an optimised site.
Building back links is useless unless your website is ready.
Build Less Back links For Greater Effects
Before we dive into strategies for building high quality back links, I think it is important to give an overview of what I look for first and how my marketing agency structures our clients sites.
To get maximum value from every link, make sure your working with:
A technically optimised website
An architecturally sound website (Correctly siloed)
A website with high quality and high engaging content
Lets look at these in more depth.
A Technically Optimised Website
There are many elements to inspect and correct to achieve a technically optimised website.
You will require a website audit tool of some description to perform this task
I like to use Website Auditor from SEO Powersuite, for the site audit and Pingdom for site speed analysis. The complete suite of tools within SEO Powersuite is fantastic and Website Auditor provides me with accurate information to work from.
Running a website audit will return data that you will need to fix (optimise). This will include:
301 / 302 Redirects
Page Indexability
Mobile Friendliness
Pages with 404 status code
Pages with 505 status code
txt File
Pages with re="canonical" errors
Duplicate Content
Duplicate Meta Information
Site Load Speed Issues
URL Structures
Once any errors are corrected you now should move onto setting up a correctly siloed site. The purpose is to transfer authority throughout each page of your site.
Creating A Strong Site Architecture
A well organised site is what keeps people on your website.
When someone lands on your website, views one page then leaves, that is considered a bounce and your bounce rate is a ranking factor that Google considers. Although small in consideration, it's something you should strive to reduce by having a correctly structured site with internal links from one page to another relevant page.
It also has SEO benefits. It will pass on link authority thorough out your site, meaning the backlinks you build to a page will have an effect on other pages resulting in less links required to rank
So how do you build a architecturally sound site?
The method I use is a Silo structure.
If you think of your Home page as the overall broad window page of your business, then each main service and/or product as categories, and then finally each specific service and/or product as sub categories you can start to visualise how a site would be setup.
To Illustrate, the flow diagram below is for a Roofing Contractor.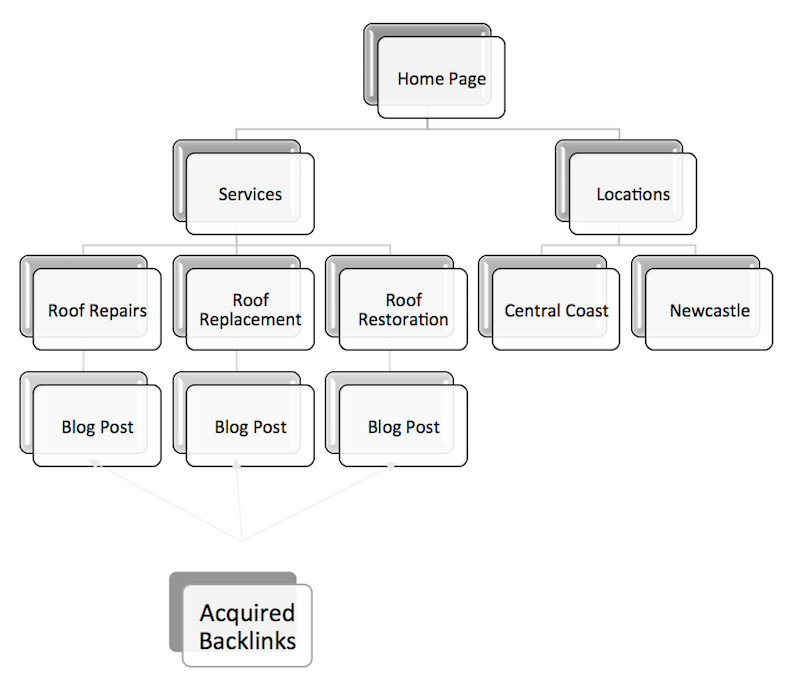 Each blog post has links internal links to each sub category service page (Roof Repairs, Roof Replacement, Roof Restoration), the main Services page, and to the Home page.
Using your blog posts to acquire backlinks will then send authority to each sub category service page, enabling them to rank for specific search terms, with less links.
In some cases, our clients have seen rankings for these pages with just social shares of the blog posts.
Use High Quality & High Engaging Content
So as I just mentioned some of our client websites have achieved rankings from purely just creating great quality content with internal links to their service pages and distributing the content out across their social media channels.
Organic traffic is primarily driven from the content that you produce. If it's of poor quality, then readers will leave the page almost immediately, which Googles algorithm detects. A poor bounce rate will make it difficult for you to rank pages for specific search terms.
If your website is lacking in quality content, then it's time to put pen to paper and map out a content marketing strategy.
Figure out what is the best topics to write about and segment them into the relevant sub categories. Schedule out a publishing plan that will allow you to distribute consistent high quality content to drive organic growth to your category pages.
Now that you have a fully optimised site with no technical issues, its architecturally sound and you have compelling content ready to be shared and distributed, you can now go about acquiring back links.
Ok so its time I show you my favourite strategies for acquiring high quality and highly relevant backlinks.
Building Quality Back links For Your Website
Here I will detail the 6 best ways to find link prospects and acquire backlinks.
If your looking for ways to place links on any site with any piece of content, then your in the wrong place.
I warn you now these strategies will take work and they require persistence.
Social Properties For Trust
Building a foundation for your website is crucial in 2016 and beyond. Google loves to see legitmate and trustworthy businesses that seek to create a brand across the internet.
So bascialy the more trust worthy you make your site, the better it will rank in the search engines.
Any link building campaign should begin with these foundational links.
If you have an established website without these links, I suggest you stop doing any futher link building and get this process done.
The following backlinks that form the foundation will be from high authoritative sites. They will be tier 1, un-optimised and branded or naked URL links only.
Read this again, Branded Links Or Naked URL Only
Today Google expects every business to have some form of social media strategy.
The first part of the foundational process is securing your brand across all of the top social media properties.
Social Media
The top social media properties you should be securing for your business at a minimum are:
Facebook
Google +
Google My Business
LinkedIn
Twitter
Pinterest
Instagram
Every business no matter what industry should be able to create a social media strategy involving these properties. At the very minimum populate these properties and share some content.
The purpose is not to be active on all of these platforms, however you should research what your target market uses to socialise and engage with and be active across those.
Basically choose what social platforms work best for your business and followers.
How to create these properties?
Sign-up or add a business profile on each property
Fill in the details correctly with your business name, contact, website URL
Add content and place a branded or naked URL (www.mydomain.com.au) link back to your website
Add an About page or fill in the About details
Add all relevant geo-tagged images
Now if building out these top social properties will help to establish a foundation for link building.
To completely secure your brand across the internet I highly recommend you create profiles on the top 200 properties.
Enter your email below to get access to over 300 different social properties to secure your brand online.
Business Listings For Relevance
To establish a ranking in the Google Places listings (Snack Pack), you will need to build citation listings on these highly authoritative sites.
Google uses citations as ranking factors for their local search algorithm, so the very least you should be building these links. These sites are trusted by Google and they obviously build a circle of trust around your website.
Again though, only branded or naked URL anchor text.
How to create business citations?
If this is the first time building citations, I recommend you work through and build out the top 20 yourself. Co-occurrence is critical when building citations. It is very repetitive, but you need to know how to build them, and what to look out for when checking for inconsistencies.
After doing this for the top 20 and you have an idea of what to look for, then I recommend outsourcing it to WhiteSpark or BrightLocal.
Please DO NOT outsource this process to someone on Fiver or Freelance sites like oDesk. They are guys that have no clue of what they're doing. If you have a virtual assistant, then it's possible you could train them to complete this task, only once you are competent enough to check the quality of their work.
Niche & Geo-Targeted Business Directories
Niche and geo-targeted directory listings offer both relevant and Do-Follow links. They are not of the highest quality, though they provide relevance, which is priority with link building.
Again only use Branded or naked URL anchor text
How to create niche targeted listings?
Simply perform a search on Google using these search modifiers:
[Niche] Business Directory (Property Maintenance Business Directory)
[Niche] Directories (Accountant Directories)
[Niche] "submit site" (Plumbing "submit site")
Once you have a list of relevant directories, check there metrics with Majestic or Ahrefs and on the best quality, create profiles and fill out the details in full. Co-occurrence is priority again with these listings.
How to create geo-targeted listings?
Again simply perform a search on Google using these similar search modifiers:
[Local City] Business Directory (Newcastle Business Directory)
[Local City] Directories
[Local City] "submit site"
Guest Posting For Brand Value
And before you start carrying on about Guest Posting not working and Google penalising sites for Guest Posting, I want to make something clear.
Guest Posting today requires you to find highly relevant sites and post high quality content.
Like I mentioned, hard work and persistence.
Guest Posting remains an effective strategy for acquiring backlinks from high authority and relevant sites
First we need to find the best prospective websites to add our content to.
To speed up the link prospecting process I like to use LinkAssistant from SEO Powersuite
LinkAssistant has a few options to choose between when prospecting.
First we will use the option for searching "Guest Blogging" footprints.
Method
Start-up LinkAssistant tool and if required create a new project.
Click on Look for prospects

and then choose the Guest Posting option as your search method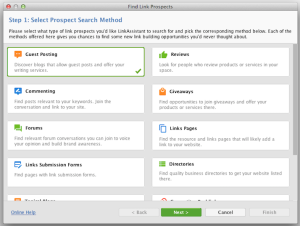 Now you can enter in keywords associated with your products or services. Since were looking for industry relevant blogs that may not necessarily talk about your exact products or services, start with generic industry terms.
So if you were an Air Conditioning Company, you might look at keywords such as:
Broad Category Keywords – Home Improvements
Add audience modifier – Heating & Cooling Home Improvements, Hot Climate Home Improvements
Add specific types of advice modifier – Home Heating & Cooling Advice, Steps For A Cooler House
Add sub topics modifier – Living Habits For Hot Climate Homes, Efficient Cooling Practices For Hot Homes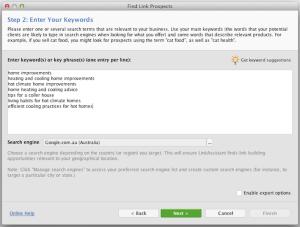 Now LinkAssistant will use those keywords and automatically combine them with various types of advanced search operators and guest blogging footprints to provide us a list of potential guest blogging prospects (Domain, Page Title, Page Description and email contact)
Second option is to search for prolific blog authors.
If there are high profile industry bloggers in the niche, we can search for those blogs they have produced content on.
Were simply going to search using their name added with a search modifier commonly used in authors bio's.
Click on Look for prospects

and then choose the Custom Search option as your search method.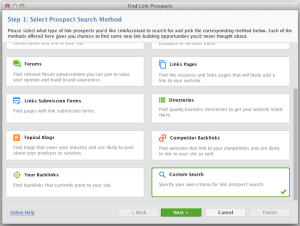 Add in the authors name and variations of these search strings:
this is a guest post by + NAME
contributing writer + NAME
written by + NAME
guest post courtesy of + NAME
guest author + NAME
LinkAssistant will use those authors names and search string modifiers to automatically combine them and provide us a list of potential guest blogging prospects (Domain, Page Title, Page Description and email contact)
Third method is to search for websites that don't actively promote guest blogging, however may accept your guest post if it's of great value to their audience.
Click on Look for prospects

and then choose the Topical Blogs option as your search method.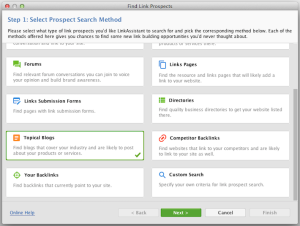 Using the same list of keywords you chose when searching for guest blogging footprints, Link Assistant will perform an additional search, however this time looking for all variations of websites and blogs in your niche.
Now you should have an extensive list of guest blogging prospects to reach out to.
Check each individual blog for relevancy and quality, then reach out via email to those that fit in with your niche.
Use a script like the following when reaching out to your prospects:
Hi Blog Owner Name,
I was looking for some niche / product / service tips today and I came across your fantastic blog.
In particular I like the article about description written by author.
I took note that author has written many articles for your blog.
Would you be interested in reviewing some of my content about your specific niche / product / service which I feel would be a great complement to your blog.
Either way, I enjoyed reading your blog. Keep up the great work.
Cheers,
Your Name
Guest Blogging Tips
Use only branded or naked URL anchor text.
When placing links in your guest posts, make sure to only link back to your website using your brand name or naked url. Avoid using keyword rich anchor text (anchor text that contains your exact match keywords). Google has cracked down on using exact match keyword anchor text on guest posts, and if you do it will likely raise a red flag and bring upon a penalty.
Guest posting on relevant blogs is priority
The purpose of guest posting is to drive traffic to your website and receive a backlink that boosts its own domain authority. This helps with branding and to move from obscurity. So in essence you want to find blogs that are more authoritative and have a larger audience base than your website.
Add value by linking to other resources.
Linking to other resources and references made by high profile author or expert build trust and authority to your guest post. Find relevant websites that can backup or be of resource to elements of your content.
Outdated Resources For Authority
This method involves searching for websites that have links pointing to sites no longer live. These sites can still be hosted and not returning any 404 broken link errors. This method is named the Moving Man Method by Brian Dean at Backlinko.
I like this method because again I can utilise SEO Powersuite to search for particular websites that are linking to previous live sites.
So let dive into the details of this method. There are a few strategies to finding outdated resources that we can acquire links from. One of those that I find effective is:
Business Rebranding or Name Changes
First is we need to find businesses or sites in your industry that have either rebranded themselves or changed names.
Many businesses will announce a name change or rebrand using a press release.
And media outlets will announce the shutdown of businesses. Some of these businesses may keep their domains active with the dormant site.
So let's do a search on PRWire for businesses associated with the power / energy sector
I just did a quick search for "new branding" and was lucky enough to find a green energy solutions press release about the collapse of Jack Green.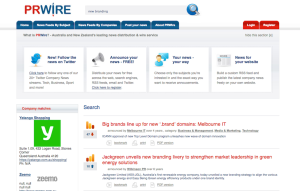 When I perform a search for Jack Green their domain still shows in Google, meaning the domain and it's backlinks will still be live. So if you were to perform a broken link prospecting method, you would miss these potentially high authority websites to acquire links from.
Now we have a domain, its time to perform a backlink audit to find prospective resources and websites to reach out too.
This is where I use SEO Powersuite's SEO SpyGlass.
Simply insert the URL into the dialogue box and let it perform it's function.
Now we have a list of URL's that are pointing to the Jack Green website.
Simply scan through the domains and check for high quality and relevant sites to reach out too.
You can see here in the screen shot below this URL has "online resources" in it and the Title is Renewable Energy: Power Producers & Developers. Looks promising.

When I open up this URL the page is clearly a resource page for Energy companies.
Here's the link and when tested to see if it not broken , it shows up green. Simply meaning the link is still live. So remeber if you were using the broken link prospecting method, you would have missed this opportunity.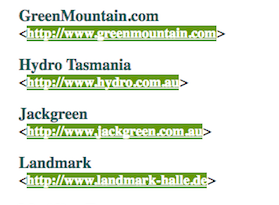 With this particular website, getting a link on their resource page requires you to submit your website link via email, so why not add in the fact the Jack Green website is no longer providing value and it would be good for their website visitors to remove it and replace it with yours.
Because your reaching out and giving them a tip on the outdated link, they will be very receptive of your idea to replace it with your website.
Niche Relevant Blog Comments
Many so called SEO "gurus" will tell you to not worry about niche relevant blog comments because they're attributed with the "NoFollow" tag.
My thoughts are that's exactly why you should be using them.
I use niche relevant blog comments for my clients sites to provide:
Provide a natural link ratio of "DoFollow" and "No Follow" backlinks,
Diversify natural anchor texts (I don't use keywords for anchor ever – Use your name or brand),
Add to the circle of relevancy,
Pick up small amounts of referral traffic, and
Build relationships with the top bloggers in your industry.
Of all the points above, building relationships with the top bloggers in your industry is key to potentially leveraging them for future backlinks in the future.
Imagine having built a relationship with a top influencer, and then creating some high quality content. It would then be a whole lot easier to acquire some backlinks from these top bloggers.
How to find quality websites to leave comments on
Using my favourite SEO tool LinkAssistant, we can find thematically relevant websites and exact niche relevant articles.
Click on

in the dashboard and pick Commenting as the research method.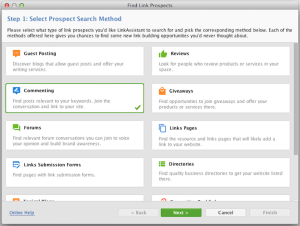 Enter the keywords associated with your products and/or services plus a descriptive of what searches may type in Google
Check the box Enable expert options a this step to allow an option to acquire URL's of the articles the tool finds with this keyword.
LinkAssistant will run a Google search and automatically append many specific phrases to the keyword/s you've chosen and will present them as a list of blog commenting prospects.
Click on relevant blogs and leave an informative comment whilst providing some value to the author and other readers.
Remember to use your name or business name in the Name field. This will be the anchor text for the comment backlink. Once again this isn't the place for keyword rich anchor text.
Forum Backlinks
Creating profiles on industry related forum groups is a perfect way to move out of obscurity. People do business with people, and you must build trust and credibility to establish a foothold in any market.
Establishing yourself as an expert or authority in a market will help to build trust and credibility.
The major benefit of forums is the real opportunity to drive a bunch of qualified traffic to your site.
The possible downside (depending on your work ethic) is it takes time to build your profile as this can only be done from your active participation in forum discussions.
Forums from years ago would allow signature backlinks, which provided a great boost to your domain authority, however now days you will be hard pressed to find a forum allowing this. So the process is to create a profile with a backlink to your site.
The more you engage in forum discussions, the more trust and credibility you receive and people will actually start linking to your profile, thus boosting its authority. Once you are an established member of the forum community, you are far more likely to be able to share links to you website content without getting flagged or banned.
How to find quality forums to create profiles on
Using LinkAssistant again, perform a search for industry relevant forum groups.
Select the Forums option and enter category keywords associated with your business.
Check the Enable expert options so you can un-check the Try to acquire contact information option since you won't need the details of these Webmasters. Check the Get exact URL's to get the actual URL's of forums and forum threads.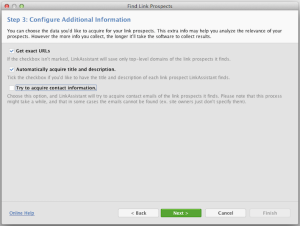 LinkAssistant will provide a list of prospective forums for you to check out.
Be sure to check each forum before spending time creating profiles. You want a community large enough that the time spent building your profile will return value in the long term.
Conclusion
The 7 link prospecting strategies I have outlined here are just a few of the tactics in our agencies arsenal. We use these links to build a solid foundation, then slowly build trust and authority to our clients websites.
The one thing to keep in mind though…none of these links are easy to obtain. They're all in line with Google's guidelines and take commitment.
To add to the notion backlinks are no longer required, well anyone who reads this article and follows the processes will find out pretty quickly how effective link building still is.