Generate Leads Using Google Search Results
Truth is for your business to grow its customer base, grow sales and boost profits you need to have a reliable source of new leads that is consistent & predictable.
You still need to have a responsive, high converting website, however this will mean nothing if its not visible on Google for your relevant search terms.
A question we get asked regulary is – "What do I have to do for our website to appear in the search results without understanding all of the technical jargon". Some business owners simply don't understand how to make their website search engine friendly, nor do they have the time to research it.
Simply what's required is your website needs to be optimised for Google's search engine. You don't need to be an expert, however downloading this guide on optimising your website will help you implement the actionable critical elements.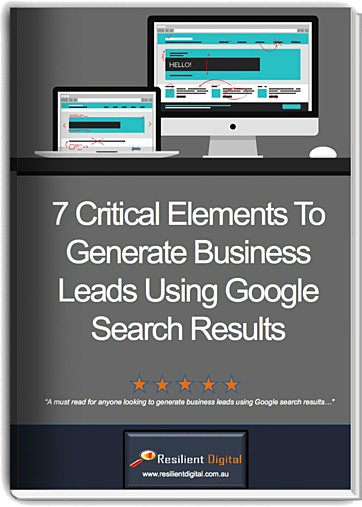 What you will learn:
7 critical factors that determine how high your website is postioned for particular search terms.
Why leveraging Google organic search results & map listings can drive targetted traffic to your site.
The type of viewing devices best suited for maximised results.
Best practices to optimise your website.
Get Your eBook Now By Filling Out Our Form Below!
https://www.resilientdigital.com.au/wp-admin/admin-ajax.php